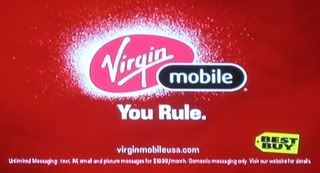 This Virgin Mobile ad gets the dubious distinction of
Bad URL
and Bad Slogan.
Bottom line, there's nothing unique about "You rule." We know it's all about "you" these days. "You" were Time's person of the year. This slogan could be for just about any brand that's hopped on the bandwagon of personalization in targeting today's self-centered instant gratification generation. This slogan would've been better off staying un-
touched for the very first time
.
Update 7/8: Just met the guys behind this slogan and, for the first time, I'm reversing my rating. They shared with me some key insights into this campaign that showed me what "You rule" is all about. The unique selling prop. they're trying to convey is that you can pay as you go with no annual contracts. The idea that "You rule" is about being able to use only the minutes you need rather than some generic personalization pitch. I saw some of the ads they ran that were customized to the context of the placement (eg, "ComsoGirl readers: You rule" and "Boston: You rule") and they really brought the theme to life. So I humbly admit I was wrong on this one and encourage any of the other creative shops behind slogans I've slammed to take me through their methodology and I'll be happy to re-evaluate my Good/Bad rating.